YUMMY! 20 Kid Approved After School Snacks!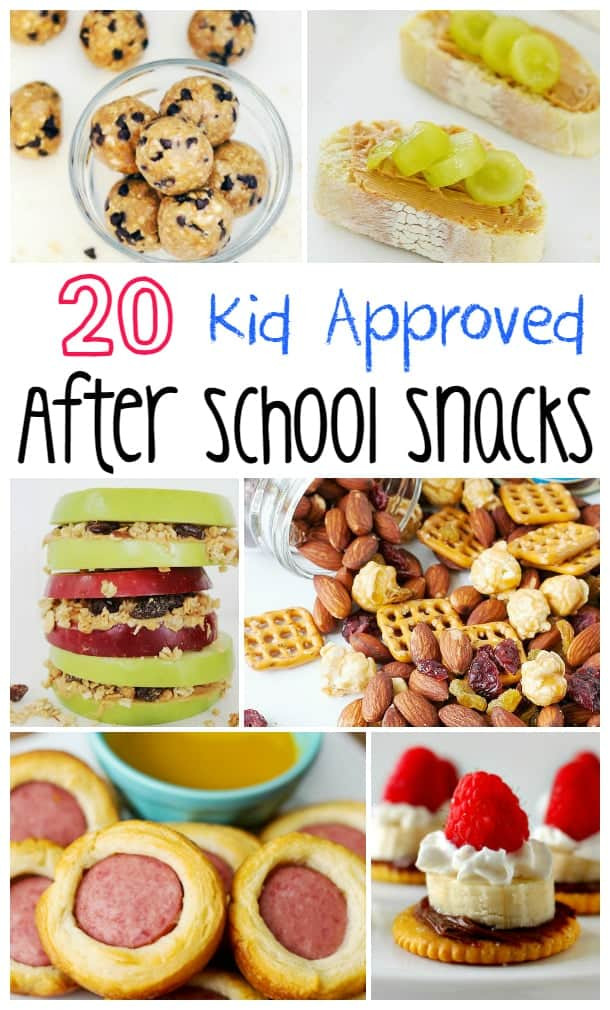 With school getting ready to start back up for fall, it's time to think about what after shcool snacks to have on hand. Instead of buying prepackaged snacks, why not make some yummy goodies your kids will really enjoy? This school season, I've got ya covered! I've compiled this list of 20 kid-approved after school snacks that will fill bellies and ensure a smile on everyone's face.
The snacks I've picked out are anything but boring. They're easy to make, finger-friendly, and so good! The list includes a variety of different treats such as – Frozen Yogurt Covered Blueberries, Easy Fruit and Cracker Pizza, No-Bake Energy Balls, Peanut Butter Bruschetta, and so much more. Making your own afterschool snacks is also a great way to know just what's going into those growing bodies. You'll be able to skip all the dyes and other additives when you make the goodies yourself!
Do your kids have a favorite afterschool snack? Is there anything I'm missing from the list of snacks?
Our Table For Seven – Baked Cheddar Crackers
Peas and Crayons – Sweet and Salty Trail Mix
Sweep Tight – No-Bake Energy Balls
Smashed Peas and Carrots – Fruit Salsa and Cinnamon Chips
Two Healthy Kitchens – No-Bake Apple Pie Cheesecake Pinwheels
Thrifty Jinxy – Crispy Asian Roasted Chickpeas
This Mama Loves – Trail Mix Apple Snacks
This Silly Girl's Kitchen – Baked Honey Crisp Apple Chips
Yellow Bliss Road – Smoked Sausage Bites
Shaken Together Life – Whole Wheat Pita Caprese Snacks
Sunny Sweet Days – Peanut Butter Bruschetta
Princess Pinky Girl – Nutella Banana Bites
Spend With Pennies – Lemon Blueberry Loaf
Family Fresh Meals – Frozen Yogurt Covered Blueberries
Raining Hot Coupons – Fruity Pebbles Parfait
Childhood 101 – Crunchy Apple Boats
Crafty Morning – Teddy Bear Toast
Sunshine Hurricanes – Easy Fruit and Cracker Pizzas
Thrifty Jinxy – Apple Sandwiches
Living Well Mom – Chunky Monkey Bites