HUGE List Of Birthday Freebies!!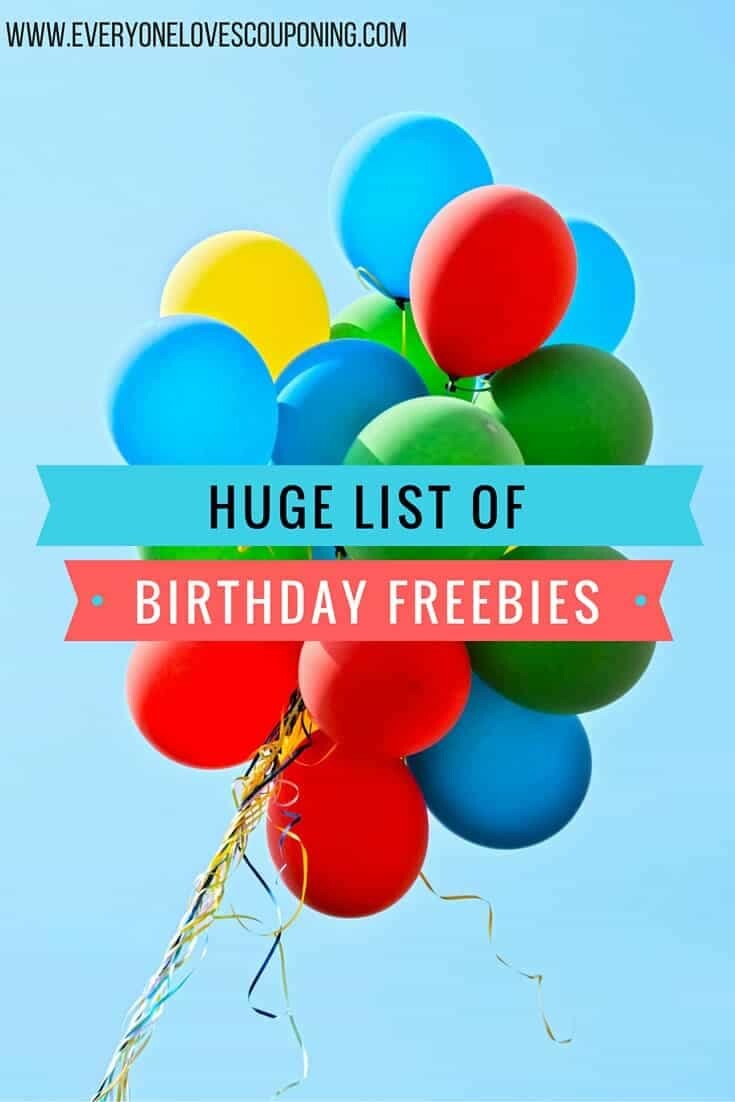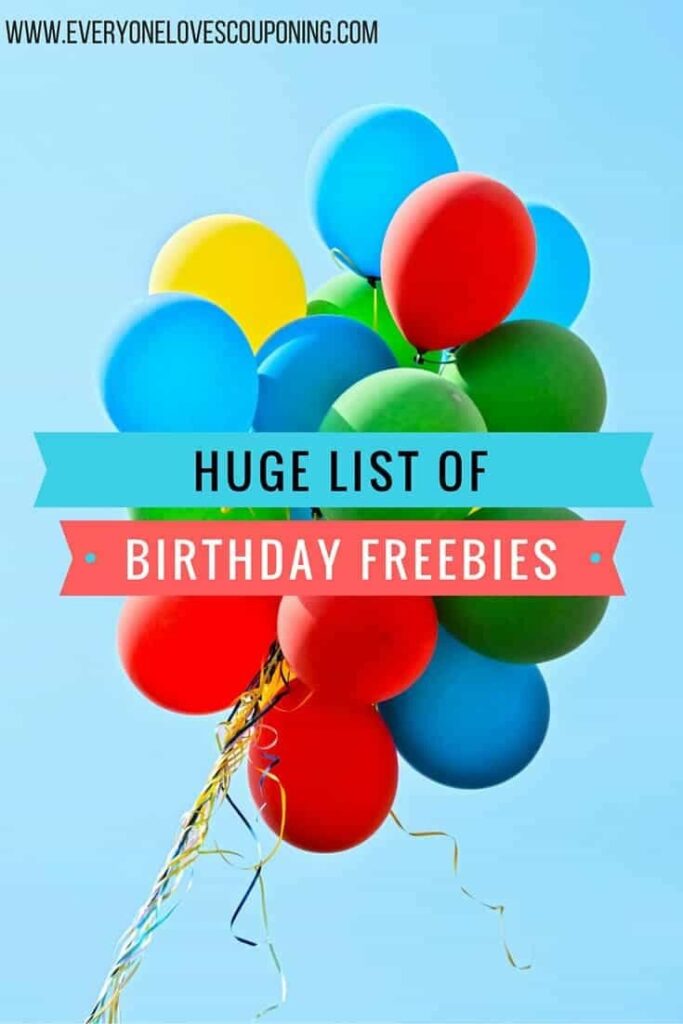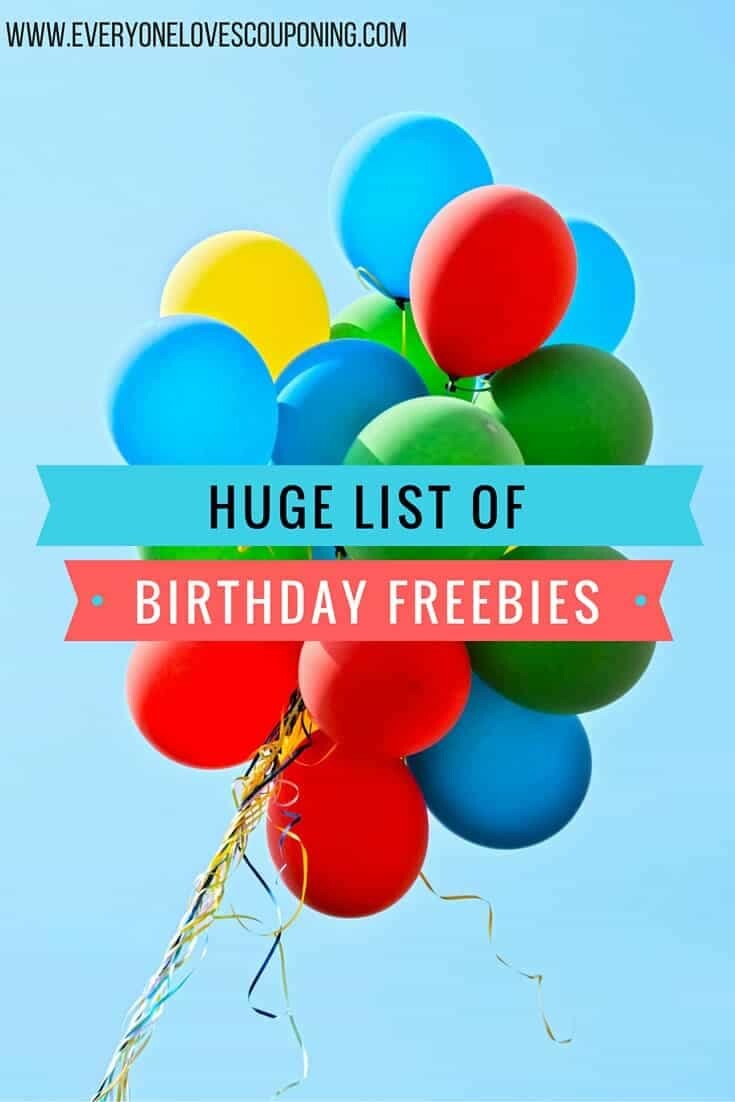 Did you know that ALOT of places give you free stuff JUST because it's your birthday? This is just a small list! My birthday is coming up in July, so I'll be on the look out and updating this list daily!
---
For Everyone
---
Applebees: Join the e-club and you will get a free dessert surprise in your in-box
Arby's: Join the Arby's Extra Club to receive a FREE Roast Beef Classic on your birthday and even for signing up .
AZ on the Rocks: By joining the birthday club you will receive FREE Climbing and a FREE yoga Class
A&W All American Food – FREE A&W Root Beer Float for my birthday because I am a member of their Mug Club (email club).
Bakers Square: Free piece of pie.
BareEscenutals: FREE Full Size Eyeshadow on your Birthday (up to $14 in Value)… sign up for the FAB Club.
Baskin Robbins: free 2.5-ounce scoop on your birthday; good for one week before and one week after birthday. Sign up here.
Benihana Japanese Restaurant: Register and during your birthday month receive a $30 Benihana Birthday Certificate by e-mail
Bennigans: Free dessert + song.
Bj's Brewhouse and Restaurant: Sign up for the e-club so that you can get a FREE Pizookie for your birthday.
Black Angus:  Sign up HERE & get a FREE Steak Dinner when you purchase a second entree, on your birthday.
Bookman's: FREE $10 Gift Certificate for Kids – sign up.

Bowling Fun: Join AMF and a special birthday deal will be e-mailed to you.
Brio Tuscan Grille: Sign up HERE for a FREE Birthday dinner meal to be emailed shortly after.
Buffalo Wild Wings: Join the Buffalo Circle to get a coupon in the mail (reports of a free dessert).

Carrows: Free cake.
Carvel: free cup or cone of soft-serve ice cream on your birthday. Online registration only.
Cattleman's (oh my favorite place!): free dessert and cowboy hat.
Chevy's: Free dessert and sombrero.
Chick-Fil-A: Check with your local restaurant but you could get a free Shake after showing your ID on your birthday. Varies by Location- Thanks Cassie
Chili's Restaurant: Join the e-club to receive a free dessert good for a week after your birthday- will be e-mailed .
Chompie's: Free Birthday Breakfast
Present your valid legal I.D. on your birthday and receive a free "Eggciting Breakfast": Two eggs any style, served with home fries and a choice of fresh baked bagel with plain cream cheese, or toast or English muffin.Dine in only. Limit 1 per customer with valid I.D. on birthday. No substitutions please.. Thanks Yvonne
Claim Jumper: Join the e-club to receive a free Dessert in your email in-box.
Cobblestone Car Wash:  FREE Car Wash.
CoCo's Bakery : Join here for a free dessert for your birthday
Cold Stone Creamery: Receive a B1G1 Coupon for your birthday

Culver's:  Join the club to get a FREE Sundae on your Birthday.
Denny's: FREE Grand Slam – just show ID.
Dave & Busters: $5 game card credit.
Del Taco: Join the e-club to receive a Free Shake on your birthday
Denny's: FREE Grand Slam on your birthday.
Dunkin Donuts: Enroll in Dunkin' Perks® Rewards and receive a medium beverage on your birthday and another just for signing up . Thanks Amber
Einstein Bros Bagel's: Join the eClub and u will receive a gift for your birthday and something special for joining
Famous Dave's BBQ: Register to Join the P.I.G. Club& receive a special birthday offer via email.
Firehouse Subs: Just show an I.D. with your birth date on your birthday and you'll get a FREE medium celebratory sub. Thanks Christine
Fuddruckers: Join Fudds eclub to receive a special gift.
GodFather's Pizza: Join the e-club here to receive a special gift from the da-boss on your special day.
Godiva:  FREE Chocolate on your birthday and FREE $10 on your birthday.
Gordon Biersch : Join the e-club here to receive a Free meal on your birthday Thanks Karen
Grimaldi's Pizzeria: Become a Grimaldi's VIP to receive a gift on your birthday. Could be a large Pizza. Thanks Rachel
Harkin's Theaters: FREE Popcorn – show ID.
Hard Rock Cafe: Free dessert

Hometown Buffet: Free birthday cake
Hollywood Video: One free video rental
Honeybaked Ham:  FREE Sandwich on your birthday, register HERE
Hooters: Sign up here and a something special will be e-mailed to you on your birthday. Possibly a coupon for a t-shirt.
IHop: You will receive one free Rooty Tooty Fresh 'n' Fruity on your birthday for joining Pancake Revolution here.
Jason's Deli: FREE $5 on your birthday when you sign up HERE. (Thanks Julie!)
Jersey Mike's:  FREE Regular Sub and 22 oz. Soda
Joe's Crab Shack: Sign up for Joe's mail and receive a free dessert on your birthday or something us special
Joe's Farm Grill: offer any guest $10 off of their bill on their birthday as long as they present valid identification. It does have to be on the actual birthday and is welcomed breakfast, lunch or dinner. thanks Brenda
Kona Grill: Sign up for KonaVore Club . Special coupon will arrive in the mail.. Thanks Amy E.
Krispy Kreme: WORD FROM CORPORATE ( on 01/08/12 ) — what you receive is determined by each store owner.  Heard of others getting a FREE Dozen Donuts (with Identification) or a single donut and coffee. But your store could be different.
Liberty Farm Grill: On your actual Birthday and must show "ID"- must dine in to receive $10 off your meal. If meal is to go, you will receive a dessert. Thanks Brenda

Logan's Roadhuose: Join the NUT-E-CLUB and you will receive a special something in your email.
Macaroni Grill: Free dessert + OPERA-style "Happy birthday" song.  By joining the Dish.
Macy's:  FREE Shipping on your Birthday. Sign up for the Email Club & Fill out your Profile.
Marie Callender's: Adults get $5 off an entree plus a free slice of pie.
Old Spaghetti Warehouse: Free meal
Olive Garden: Join the e-club here and you will receive a special something on your birthday
On the Border: join the Club Cantina here to receive a special email for your birthday.
Outback Steakhouse: Free dessert + song – sign up here.
Perkins: Free stack of pancakes by joining here.
PF Chang's: Free cake or cheesecake.

Pizza Hut: Join the e-club to receive a special gift on or around your birthday.
Pretzel Time: Join the e-club to receive a special surprise.
Quizno's Sub : Join the q-club to receive a birthday gift and other surprises.
RA Sushi – Great place to eat in forms of food AND ambiance. Sign up for "The Hook"and get a FREE $20 Gift Certificate every year on your HALF Birthday! Thanks Christopher!
RedBox: Sign up for an on-line account and receive a special code for your birthday.
Red Lobster: Free slice of cake + song. Join here.
Red Robin: Free burger of your choice; some restaurants also include a free small sundae. Good for one week before and one week after birthday. Click here to register.
Rock Bottom: Free appetizer for Mug Club members.
Round Table: Free personal pizza by joining here.
Rubio's: FREE Meal on your birthday (Thanks Julie!)
Ruby Tuesday: Join the Birthday Club for a FREE Hamburger.
Sephora: Join the Beauty Insider' to receive " A Sweet Gift on your special day".
Sizzler: Receive valuable coupons and free dessert for your birthday by joining here.
Sonic: Join the Cruisers Club and score a FREE Slush, or Medium Drink on you Birthday.

Starbucks: Join "My Starbucks Rewards" and Receive a postcard for a free drink (any Drink) on your birthday.
Subway: Join the Eat Fresh Club here and receive a Free SUBWAY SIX-INCH® Sub and Drink on your birthday .
Summer's Eve: Register for their Email Newsletter and they will email you a coupon on your birthday for $3.50/1 ANY Summer's Eve Product.
The Keg:  Sign up for emails& get a 10 oz. prime rib dinner with Caesar salad during your birthday month, Sun-Thurs only.
Texas Roadhouse: Become a Roadie. Upon registering with the VIP Program, you will receive an e-mail coupon for a free Cactus Blossom. We'll even send you a special e-mail on your birthday and on the anniversary of your VIP sign-up date.
TGI Fridays: Free birthday Dessert by joining 'Give me more Stripes'.

Tony Romas: Free dessert or/and a free meal- by joining here.
Ulta:  FREE Brow Arch services at their Benefit Brow Bars – on your birthday.
Village Inn: Free Dessert with Entrée Purchase.
---
Kid Freebies
---
Bashas Grocery Store: For kids 1-10 yrs of age. Every year on their birthday they will receive a FREE birthday cake and card from 'Bashas the Bear' and mom/dad will receive coupons to help plan the party. Register HERE.
Bob Evans: Children under 12 can get another free kids' meal when they sign up for theBob Evan's Kids' Times Birthday Club.
Boston Market: your kiddo to a special meal out without having to pay the tab. When you sign up for Boston Market's Birthday Club, you'll receive a coupon for a free kids' meal, drink and dessert by mail.
Burger King: Free hamburger meal for ages 13 and under. Online registration only; parents must set up account HERE.
CA Pizza Kitchen: Children under 10 can sign up to receive a coupon for a free CPKids meal during their birthday month.
Children's Place: Sign your child up for the Children's Place Birthday Club and you and your child will both receive a surprise on your birthdays. You may submit up to five children per household.
Denny's: Free meal for kiddos 10 and under. Sign up in the restaurant or here.

KMart: For the kids- sign up here and the kid will receive $5 K-bucks
Marble Slab Creamery: Sign up HERE to get a coupon for a free child's size ice cream cone with mix-in. For ages 12 and under.
Marie Callender's: Ages 12 and under get a free kids meal and a bakery treat. Sign up in the restaurant or online.
Makutu's Island: Sign up for the Makutu Island Kids Club HERE & receive an email with a coupon for a free admission ticket on their birthday! <–Thanks Shannon!
Monster Jam: FOR THE KIDS -they will receive a Birthday E-Card , a special message from one of the superstars of Advance Auto Parts Monster Jam®. All for free in the month of your birthday! Join here.
Oregano's Pizza: For all birthday boys and girls you will receive a free pizza cookie.Thanks Amber
Phoenix Zoo: to receive FREE admission to the Zoo on your birthday, in addition you will receive a FREE carousel ride and a fun button to wear around the Zoo so everyone knows it's your special day. Birthday Club is for all children up to 12 years old. Read moreHERE.Thanks Reshel
Sonic Drive In: For Kids- Join the Sonic Cruiser Club and you will receive a Free Kids Meal by e-mail.
Steak & Shake: Free dinner for "birthday club" kids.
Toys R Us: Free gift card and birthday card for ages 10 and under; kids who visit a store can collect a crown and a balloon and hear birthday wishes over the store's loudspeaker. Parents get a $5 Toys R Us coupon in advance of the birthday. Click here to register.
---
Pet Freebies
---
PetCo for Pets: Join and receive a special message and get a coupon just for your pet.